Boo! Just in time for Halloween fun.
GHOSTS:  Some people believe in them, some people don't.  Some people just aren't sure.  EMILY'S GHOST is a lighthearted tale of a 19th century scalawag, hanged for a crime that he didn't commit, who wants his conviction overturned by a modern investigative journalist (who doesn't believe in ghosts).  TIME AFTER TIME is another ghost story with a light touch:  a single-mother aspiring party planner takes on a confirmed-bachelor upscale party pooper and finds herself in the middle of an historic mystery, with an amnesiac friend, a thief on the loose and a recurring apparition that may or may not be her imagination.  BEYOND MIDNIGHT treats the idea of otherworldiness more seriously, as the owner of a prestigious preschool in Salem, Massachusetts finds herself mysteriously motivated to discover the truth behind the death of a preschooler's mother and in the process finds herself reliving the nightmare of the Salem witch hunt of three centuries earlier.   If you believe, if you don't, if you're not sure -- there will be something in this collection for you.  Enjoy.
Buy the GHOSTS boxed set.
Three more of my recently released boxed sets.

Summer Places
Nantucket. Martha's Vineyard. Newport. Magical names, all three of them, because they call forth images of ocean-swept beaches, rose-covered cottages, seafaring Captains' stately homes, and all of the laid-back charm that islands can bring. Is there anyone who hasn't wanted, if only for the length of a vacation, to live on one?

But here's the thing about islands: for all of the obvious pleasures that they offer, they have some aspects that would make any mainlander a little crazy. Take transportation. Having to take a ferry makes a quick lunch with a friend on the mainland a fantasy, and a trip to Target a major project. (Nantucket is a long ferry ride from the mainland, and Martha's Vineyard isn't much closer. Even Newport, despite its bridge to the mainland, can have cars so backed up that a ferry could easily beat them.)

Food. True islanders do not expect miles of aisles and fourteen different kinds of peanut butters; they know how to do without. Movie theaters: one seems plenty. A living wage? Only during tourist season. Housing? You can tell a local's home from a summer house because the local's house will probably need paint. That is, if the local can actually afford to keep a house on the island, the one where he was born and raised, to begin with.

The gap between the Haves and the Have Nots in such places is especially glaring. It's a running theme in the three novels featured in the boxed set, SUMMER PLACES. Three New England locales are explored in three novels -- each of them capturing the the highs and the lows of a way of living that most of us can only dream about.
Buy the Summer Places Boxed Set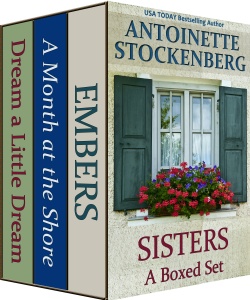 Sisters:  their relationships can be deeply intimate, beautiful, tense, even hostile -- but they are always complex.  In this boxed set, the relationship is explored in three different novels. In EMBERS the sisters both fall in love with the same man.  In A MONTH AT THE SHORE, one sister flees home and the family business while the other stays behind.  In DREAM A LITTLE DREAM, a young girl joins her older sister in her struggle to keep the family together in the sisters' home, which happens to be a castle.
Buy the Sisters Boxed Set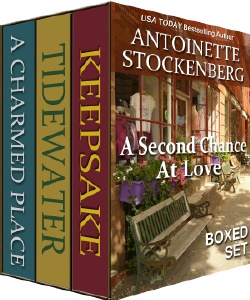 A Second Chance at Love. It's the theme of three different novels by USA TODAY bestselling author Antoinette Stockenberg. In KEEPSAKE, the daughter of the richest man in town shares something in common with the son of the tycoon's gardener: their childhood, spent at opposite ends of an elegant estate. After seventeen years, a still unresolved murder brings Olivia and Quinn together again -- and threatens to keep them apart forever.
In TIDEWATER, a brief but torrid relationship between Sara Bonniface and Ben McElwyn results in a child who develops into an all too precocious twelve-year-old determined to track down her biological father -- and who isn't afraid to break every dish in the kitchen in her pursuit of the truth. A murder mystery complicates an already fraught situation.
In A CHARMED PLACE, Maddie Regan is stunned to find that Dan Hawke, her college sweetheart and now a war correspondent, has moved into the lighthouse next to her family's summer home on Cape Cod. Dan knows all too well that Maddie's family, and Maddie herself, are unwilling to let him back into their lives, but that doesn't stop him from trying. Dark secrets, including an unsolved murder, are challenges he's more than willing to face -- even though the village sometimes feels to him like a war zone.
Buy A Second Chance At Love Boxed Set