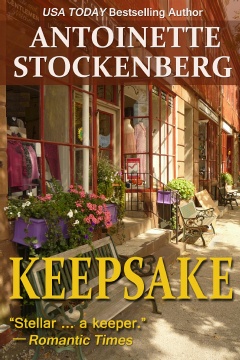 Keepsake
"Wonderful, witty, humorous writing"
--The Romance Reader
KEEPSAKE. It's not a hand-made quilt, or an ivory pin, or a pretty small box for treasures ....
It's the name of a postcard-perfect town in Connecticut. From its quaint gazebo to its white-steepled church and village green, Keepsake is the kind of place most would love to call home. It's home to Olivia Bennett, the town princess who has a charming shop there. It was home once to Quinn Leary, the son of her family's gardener: Quinn fled as a teenager with his father who was accused of a murder he didn't commit. And Keepsake is home, still, to someone with mayhem on his mind. When Quinn returns after an absence of seventeen years, he has one desire: to prove his father's innocence. It's not until he sees his childhood school rival, now a grown woman, that he realizes he harbors another but equally passionate desire--and that the two are tragically at odds.



If you don't have an e-reader you can still download the Nook or Kindle version and also download a FREE App that will allow you to read this e-book on virtually any device: notebook, laptop, desktop computer, tablet or smartphone.