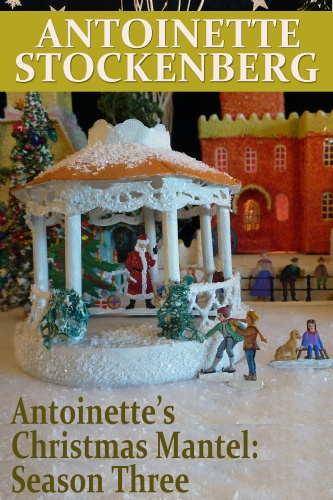 Christmas in Keepsake
My novel is set in a Connecticut village called Keepsake. When the story begins, it's nearly dark and it's snowing. Tonight is the annual tree lighting, and the village center is bustling. Holding court in the town's charming gazebo, Santa Claus is welcoming young ones and hearing their wish lists. Children are everywhere -- waiting on benches, perched on fences, arriving by horse-drawn sled. Santa's deer (borrowed from a petting zoo for the evening) are waiting in a nearby pen for their next handful of feed from some eager child. People are chatting, shopping, skating, enjoying hot drink and food. Keepsake loves Christmas.

And that is the scene that Quinn Leary, the hero of my novel, comes upon after an absence of seventeen years. Quinn is a townie, the son of an estate gardener accused of a slaying he didn't commit. Gardener and teenage son had fled Keepsake one step ahead of an arrest, and now Quinn has returned to clear his father's name. At first Quinn doesn't notice a charming shop in Keepsake called "Miracourt". It's a newer shop, filled with beautiful fabrics -- and it's owned by Quinn's old high-school rival, Olivia Bennett. Olivia is the daughter of the wealthiest man in Keepsake, a mill owner and a man who was able easily to afford to keep Quinn's gardener father full-time. Olivia's little shop also has a place on my mantel this Christmas. For the rest of their story.

But in the meantime, the regular cast of characters from mantel villages in years gone by are all still here, and their latest chapters continue in this season. And remember, just double-tap on any of the images in this book to explore them in detail.