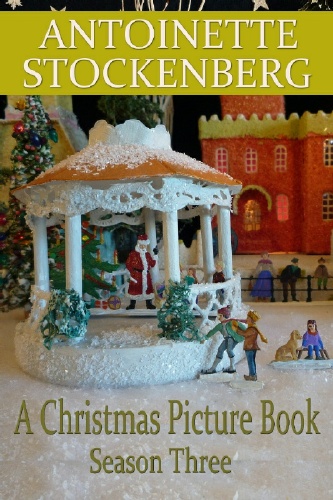 Christmas in Keepsake
My novel is set in a Connecticut village called Keepsake. As in the novel's opening chapter, my mantel scene features an annual Christmas tree lighting, with the village center bustling with activity. Santa Claus is holding court in the town's gazebo, welcoming young ones and listening attentively to their wish lists. Children are everywhere -- waiting on benches, perched on fences, arriving by horse-drawn sled. Santa's deer (borrowed from a petting zoo for the evening) are waiting in a nearby pen for their next handful of feed from some eager child. People are chatting, shopping, skating, enjoying hot drink and food.  The village just loves Christmas.

The cast of mantel characters returns.  Old John Hooks is worried about losing the farm, and banker Max Schurster isn't very reassuring.  Mayor Pittman, Attorney Pettifore, and Doctor Greene are deep in discussion about a proposed hospital.  Lavinia Pittman, the mayor's wife, has a new social rival, and Clive and Margaret are celebrating their first anniversary with happy news.  Harmony has splurged on heavy new curtains for the nursery, young Johnny Hooks can't seem to find Sonja, and the Woodcuts, as usual, have something to say about everyone. Their stories, and more, are all here for you to read and enjoy.