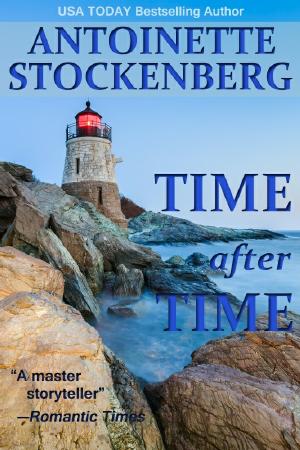 Time After Time
"As hilarious as it is heart-tugging ... a rollicking great read."
--I'll Take Romance
USA TODAY bestselling author Antoinette Stockenberg spins a lighthearted modern tale of romance and intrigue with a touch of magic.

In Gilded Age Newport, an upstairs-downstairs romance between a well-born son and a humble maid is cut short of marriage. A hundred years later, the descendants of that ill-fated union seem destined to repeat history.

Or not.

Liz Coppersmith, a party planner, hopes to move beyond kids' parties at Chuck E. Cheese to planning premier events among the upper crust in Newport, Rhode Island. Her first upscale client is confirmed bachelor Jack Eastman, a party pooper who's struggling to keep the family empire afloat and would be just fine with Chuck E. Cheese.

Jack is also juggling an untrained puppy, two illegitimate toddlers, a runaway mother and an aging Casanova father. But it's not all sweetness and light for Liz, either: she finds herself in the middle of an historic mystery, with an amnesiac friend, a thief on the loose and a recurring apparition that may or may not be her imagination.